Fence Service for Any Home in North Georgia!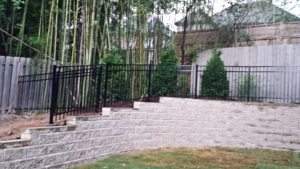 Marvin Fence provides a variety of residential fencing services and commercial fencing services in the greater metropolitan Atlanta, GA area. Whatever your interest in fencing may be, we have the fence that will provide the necessary aesthetics, strength, durability and security to fit your needs and enhance the value of your businesses or personal property.
Marvin Fence provides chain link fence that is the dependable, economical way to protect your property, to prevent your children from wandering off or to keep your pets in and other pets out.
All of our chain link fabrics are warranted to be free from defects in workmanship and materials and will not corrode or rust for a period of twelve years.
Types of Fence Services in Georgia
Marvin Fence provides the following fence services and installations:
Commercial Fences
Residential Fences
Ornamental Steel
Ornamental Aluminum
Chain Link
Estate Gates
Automatic Gate Operators
Custom Wood
Vinyl
Split Rail
Arbors
Trellises
Athletic Fields
Call or contact us today in order to receive a free estimate and see what the fencing professionals at Marvin Fence can provide for you!
Ornamental Wrought Iron Fence Installation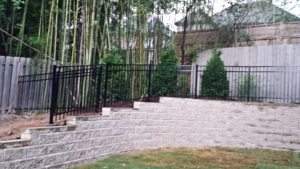 The Ornamental Iron (sometimes called Wrought Iron) installed by Marvin Fence is powder coated over a galvanized high strength steel ensuring a maintenance free product for many years. We are a dealer for Ameristar Products, the largest manufacturer of ornamental Iron in the country.
Whether you desire a simple or intricate style, Marvin Fence can produce a custom design that meets all your aesthetic requirements while providing all the lasting durability that is characteristic to iron work. d
Wood Fence Repair and Installation in Lawrenceville GA
Marvin Fence only uses the finest grades of treated pine and cedar products, installed on wooden or steel posts to ensure maximum aesthetics and longevity.
Using an ornamental iron sliding gate in conjunction with a wood fence is a great way to secure a driveway without the added weight of wood on an expensive operator adding years of trouble free operation to the life of your operator.
At Marvin Fence, our wooden fences are built of the finest cedar, to last for years to come. Wooden fences add value and beauty to any property while providing privacy for entertaining, safety around pool areas, and secure places for children and pets to play. Decorative gates, trims, hardware, and stains are also available to add a personal touch, making your fence distinctive and unique. We welcome your design ideas and are up for the challenge.
Vinyl Fence Repair and Installation in Lawrenceville Georgia
Vinyl fencing is an innovative and modern way to add security and/or privacy to your property. The PVC material has a lifetime warranty offered by the manufacturer and never needs painting or staining like an ordinary wood fence. The clean, sharp look of the polyvinyl finish on this style of fencing will always look fresh and new, providing you with many years of care free maintenance as well as an attractive and appealing look to your fence.
Auto Gate Installations in Georgia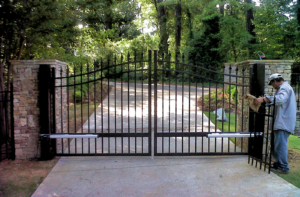 Auto Gates provide a welcoming aesthetic while addressing your needs for a secure access to and from your property. Whether simple or ornate, swing or slide, wood or iron, Marvin Fence can build the auto gate you envision, with access control equipment that is "state of the art".
Custom Design Fence
Marvin Fence understands that each customer is an individual and we celebrate that fact by welcoming the opportunity to create new and exciting designs for our customers.
Marvin Fence takes pleasure in working alongside customers and design professionals to create a design statement unique to you and your needs. If you can conceive it… we can build it!
Balcony Railing Installation Near Me
Marvin Fence offers a wide range of wrought iron style balcony railings designed to order. All railings are hand made of quality steel and there is a variety of finishes available.
Gate installation In Lawrenceville & Access Control
In addition to access control swing and slide gates manufacturing and installation. We carry a range of supplementary access control products, such as access cards, remote controls, keypads, card readers, electronic gate openers, phone entry systems and radio frequency technology. Leave it to Marvin's to take care of your access control job from identifying the best solution to design, manufacturing, and faultless installation.
Marvin Fence is your source for custom manufactured curved, spiral and straight stairways. Traditional or contemporary, standard or custom, the right stairs, and railing make a definitive statement about you and your home.
We guarantee quality residential fencing and professional fence installation that works for you and your family. Call the professionals at Marvin Fence Company 678-300-2118.