Reliable Fence Installation
At Marvin Fence, we pride ourselves on offering the best possible service the fence industry has to offer. Through our residential, commercial and industrial fencing projects, we work to go beyond your expectations with our excellent customer service and our commitment to quality fence installation.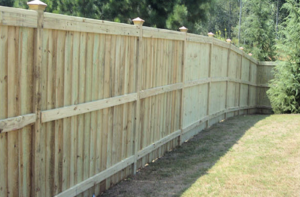 We use only the finest quality fence products to provide solutions for our customers. No fence will last forever, but we at Marvin Fence believe it should last as long as humanly possible. Unlike the other fence installations, we use only pressure treated lumber and high-quality metals to ensure everything the Georgia seasons can throw at it. 
Whether you're looking to secure your property, gain more privacy, create safety for your children and pets or simply gain curb appeal. We will work with you every step of the way to satisfy your needs and stay within your budget.
No Matter the Fence, We Have the Materials!
Residential fences, whether they are wood, chain link or ornamental iron, offer many options to benefit your property. In addition to adding property value to any home, residential fences reduce your liability if you have an attractive nuisance. They also provide a barrier between your backyard and those around you. Additionally, a residential fence, whether wooden or metal, can keep your pets safe and add a nice addition to any home. 
Wood privacy fences provide security for your property, your family, your yard and your business. Wood fences are available in split wood, picket fences, and cedar wood fences. Whether you're looking to spruce up your yard, add some privacy, or simply protect your pets, Marvin Fence's wooden fences are the perfect fit for any residential home. also, with any of our options, we guarantee you'll find something that matches your home perfectly for fence installation!
Ornamental iron fencing adds security as well as a unique appearance to your property. Open iron fencing can also be designed with access gates and railings to enhance the beauty to the entrance of your home. Custom fence designs compliment the feelings of security and style. Chain link fence installation is a cost effective option for securing your property. Options include galvanized or vinyl coating finishes to meet your fencing needs. 
Buford Fence Repairs and Installations
Naturally, you want a fence that lasts, and we are just the people to do it. We put quality first, and you can rest assured that our fence installation is second to none. Whether you need a small fence to enclose a structure, or hundreds of yards to protect a property, Marvin Fence will do a better job, guaranteed. Our fences are designed to stand the tests of both weather and father time.
Marvin Fence offers fence installation services to customers all around Gwinnett including Buford, Lawrenceville, Suwanee, Cumming, Johns Creek, Alpharetta, Dacula and more. Call us today to get a quote on your new fence today. We can provide, arbors, ranch/farm Fencing, siding, outdoor kitchens and concrete installation and repair.
Read more about our fence installation company with the best prices around!