The Fence Company in Lawrenceville You Can Trust!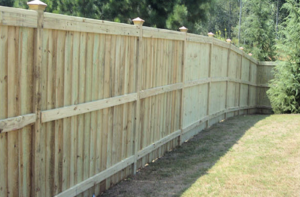 Not that long ago, Robert Frost wrote, "Good fences make good neighbors". Some say he was referring to how people share their lives and keep things private as well. If you're looking for fencing for your home yard- back or front, call Marvin Fence. With more than a decade of experience, we are the local fence installers that will help you decide the right type of fence for your needs.
There are a lot of reasons to put a fence in your yard. That's why it makes sense to talk to a professional fence installation company in order to get the right fence for the right need. Some people simply want a property fence to mark the beginning of their land and the end of their neighbors. Other people want outside fencing for privacy. Whatever your reason for wanting a fence, Marvin Fence can help.
We provide a variety of different types of residential fences and gates. Some of the fencings we offer include:
Picket Fences
Wood Fence
Aluminum Fence
Wrought Iron Fences
Privacy fence
Ornamental fence
Commercial slide gates
Commercial or residential chain link fence
Steel Security Fence
Solid Metal Security Fences
Electric Fences
Chain Link Fences Lawrenceville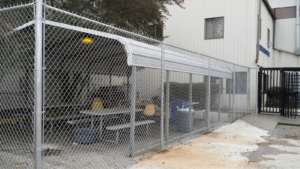 If you're looking for affordable fencing that is durable, sturdy and provides just the right type of containment you may need, then a chain link fence may just be the way to go. We can build your chain link fence in a variety of colors as well as heights. Perfect for keeping the kids and pets where they belong and the rest where they belong as well!
Wood Fences Gwinnett Georgia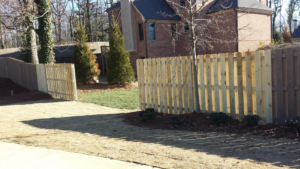 Wood fences are a great way to establish privacy. If you're looking for an aesthetically pleasing way to protect your home as well as secure your yard, wood privacy fences are a great choice. If you're looking to secure what attorney's call an "attractive nuisance" like a pool or trampoline, a privacy fence is a great way of reducing your homeowner's liability. Plus, wood fences can really increase the value of your home as well as added security. We can provide any height you need as well as any finish that matches your home and tastes. Call us today to talk about your next wooden fence.
Vinyl Fences in Lawrenceville
For a fence that provides privacy, is durable and requires much less maintenance than some of the other types of fences, then a vinyl fence may be just the right choice. Vinyl fences are becoming more popular around Suwanee and other parts of Atlanta. These fences look great and give you the security and privacy you want in a fence without the maintenance. Feel like changing the look? Just paint your vinyl fence and it's like new again. Call us to discuss ways this might be the best fence for you.
Ornamental Fence Installations in Lawrenceville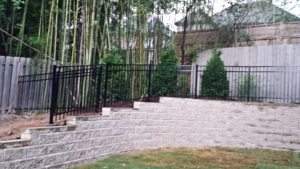 When it comes to estate fences or more decorative fences, Marvin Fence can install a variety of ornamental fences to match your tastes and budget. Perfect for highlighting your property, our metal fences provide beauty and containment, and these fences are incredible, durable and strong against any climate. Ornamental fences are a great way of getting more security as well as aesthetic charm. Call Marvin Fence for a free consultation for all your fencing needs.
Steel Fences Company in Georgia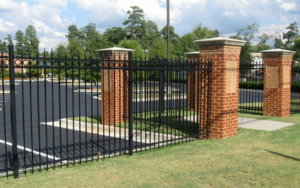 If you want a fence that will last, keep people out (or people in!) and requires very little upkeep, steel fences are an excellent choice. We can provide an array of steel fence designs to match your property, taste, and budget. Let us help you decide if a steel fence is right for your home.
Decorative Fence Installations in Lawrenceville
When it comes to affordable fences, calling Marvin Fence is a great first call. With years of experience, we're not a huge fence company with a lot of overhead. This means when it comes to fence pricing, we can give you a quote you can actually afford.
We have many happy customers all around Gwinnett including Buford, Lawrenceville, Suwanee, Cumming, Johns Creek, Alpharetta, Dacula and more. Call us today to see what a commercial fence contractor installation will cost.
Find Marvin Fence Company for your residential fencing, industrial fencing, and commercial fencing for all of your professional fence installation needs. Find us anywhere in Atlanta throughout the Northeast Georgia area! We're happy to serve Duluth, as well as Alpharetta, Canton, Marietta, Roswell, Tucker, Decatur, Dunwoody, Sandy Springs, Smyrna, Suwanee, Gainesville, Kennesaw, Mableton,  and surrounding areas in GA.
Click here to read about our fences for farms or ranches!