Get A Fence Built To Last!
Good fences serve many different purposes, but if you've ever wanted a fence to accent your property, you want one that will last. That's when you need to talk to someone who does nothing but fences all day everyday. That's when you need the fence contractors at Marvin Fence.
The pros at Marvin Fence don't do fences on the side. It's not an after thought. We go to work every day to build solid fences. We build fences that last.
Fence Quotes: The Scam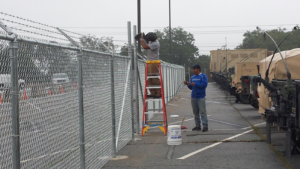 When it comes to fencing, you only need a few basic things. First, you need an honest quote. That can be tough to do over the phone since most people don't have any real idea of how much fencing they actually need. That's why you should never trust fence companies that give you quotes over the phone. Our fencing contractors come out to property and actually measure the area before giving you a quote. This way, we can five you an accurate quote rather than under quoting the project just to get the job and then upselling you once they've started working.
Our fence builders take great pride in giving honest, accurate quotes. With Marvin Fence, you pay only what we quote and never anything more.
Fences. It's All We Do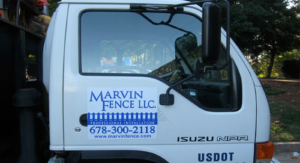 Naturally, there are a lot of home renovation companies and contractors out there that think that building a fence isn't rocket science, so they they'll do fences as well as all the other stuff you want for your home. These are the kitchen or bathroom renovation guys that will also install fences. While there might be reputable and competent guys out there like that, more often than not, it's not the fence. This means you get a fence that looks great at first but doesn't last because corners were cut on the installation, materials or workmanship.
At Marvin Fence, we do one thing and one thing well. We build fences. Not bathrooms. Not kitchens. Fences. It's all we think about. You wouldn't call a kitchen renovator to install your garage door. Call a fence company when you want a fence.
We have happy customers with long lasting, affordable fences all around Lawrenceville, Buford, Dacula, Sugar Hill, Suwanee, Duluth, Cumming, Hamilton Mill & Braselton/Hoschton. We'll go elsewhere. Just give us a call.
Why You Need A Fence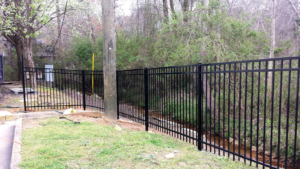 People ask us for fence quotes for many different reasons. We'd like to think that we're a bit of an expert on the subject since it's all we do. (Did we mention that?), so we thought we'd give you the top reasons people ask us to install a fence.
The absolute biggest reason people call us about fencing is for security. It's obvious that people want to keep the bad guys out. We get a lot of calls around Lawrenceville, Suwanee, Dacula and Buford for metal fences, wrought iron fences or chain link fences. (We're just saying- not judging!).
Obviously, the bad guys want easy access, and a fence is just one more deterrent when it comes to getting the goodies- especially a fence with a big barking dog behind it!
The next biggest reason we see people asking for fence quotes would be for privacy. Clearly, the concept of privacy is under attack these days, but not in our customer's back yards. We get a lot of calls for privacy fences, and we have a variety of materials we can use to keep prying eyes out such as:
Wood Fence
Vinyl Fence
Aluminum Fence
Naturally, the cost of a privacy fence varies depending on how big your yard is. And, believe it or not, people are putting up privacy fences more and more in their front yards as well as out back although backyard fences are still the most popular. Privacy has become an important issue.
The third reason people tend to call us for a fence would be to protect what attorneys call "an attractive nuisance". This is lawyer talk for something like a swimming pool or trampoline. In our terms, it's something really fun and cool that you don't want the neighbor kids coming over uninvited and hurting themselves on only to have their family sue you into the next generation. Thus, a fence helps reduce your liability.
Everybody loves a swimming pool in the back yard, so having a solid fence to keep wandering swimmers away is just good thinking.
While those are the top reasons people call us for fences, let's face it, a great fence makes things look better, so whether you have one reason or many, call Marvin Fence for a free fence quote.
Affordable Fences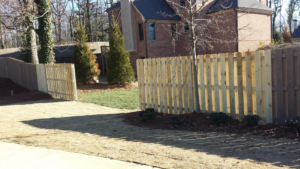 Since we've given you a bit about why people tend to want fences, we thought we'd talk about the second most popular subject when it comes to fences. That's about the cost.
You might be amazed at how many people want us to give them an accurate quote for fencing over the phone. We understand this- we really do, but the problem always comes with the next question- "How big is your yard?" Few people really know. This leads to statements like, "Well it's about ____ feet long, and ____ feet wide". And, that's an educated answer. We've gotten some pretty funny responses. One guys said, "Oh, It's small". He must've been from Texas because you could've landed a Delta jet in his back yard. We're pretty sure his back yard was once a small country.
The point is, good fence companies really do need to set up a time to come see your yard. Giving you any kind of answer on the phone would be nothing more than a wild guess or an effort to hook you into a scam. There's just no way of knowing how much your fence will cost unless we do some measuring.
The good news about Marvin Fence is that we're a local fence company. We've been the subcontracted crew for the big fence companies for years before going out on our own, and since we're one of the little guys with tons of experience, we don't have the overhead of a monster fence company. We can install a fence for you that you can actually afford. No second mortgage! No pawning jewelry! Not only will we give you an affordable fence, but we'll build one that will look awesome and last!
About Marvin Fence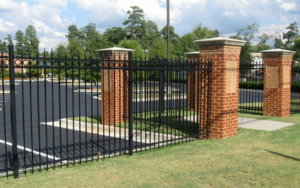 For more than 20 years, we've been working for the man! We've worked for some of the biggest fence companies in Atlanta. We've installed fences all over Lawrenceville, Buford, Dacula, Suwanee, Cumming, Duluth and Braselton/Hoschton. We know the area very well.
But, we got tired of making more money for someone else and we got even more tired of seeing some of the business practices of some of the other fence companies. That's what prompted us to go out on our own. Since then, we've been doing great!
Our fence contractors understand that our reputation depends upon doing everything we can to exceed your expectations. This means:
Fast work- get in and get it done
Clean up as we go- no mess
Quality fencing materials- quality always outlasts!
Affordable fences
What makes Marvin Fence the best call is that we don't have to jack up our prices in order to afford to pay lots of crews or massive overhead. We're not a big company. Marvin still installs fences himself. And as far as big advertising budgets go, nearly all of our business comes from referrals. That should tell you how our quality and customer service ranks. That's what let's us pass the savings on to you and gives you affordable fencing.
Types Of Fences
When it comes to making decisions about your fence, it seems like there are a million different choices out there. That's why you need a fence company you can trust to work with you on what might be best for your needs and budget.
Here are the most popular types of fences. If you don't see what you're looking for, call us and let's talk about it. We've had people get idea for fences in their heads that after a brief chat, they decide it wasn't what they really wanted after all. Then, we've also had some talks like that where we were able to give them something we hadn't thought of before either, so it can go both ways.
Wood Fences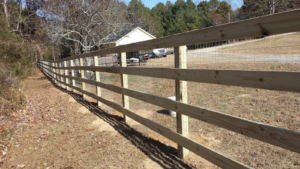 When it comes to privacy fences, wood fences are always a good choice. They offer a strong level of security as well. Some homeowners choose to go with a different type of material like a cedar fence which looks wonderful, but that also depends on the look of your house and your tastes as well.
Some people with bigger property lots have opted for split rail wood fences that keep their livestock in place as well as looks great.
The one thing to keep in mind with a wood fence is that it will darken with age. That's where you'll likely need to pressure wash it and stain it at some point down the road.
Wood fences have been very popular in Cumming, Sugar Hill and Lawrenceville. Call us to get an idea of our wood fence costs.
Metal Fences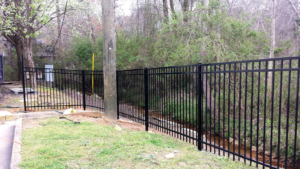 Metal fences really accentuate the look of your property. There are a variety of metal fences that we can install that look absolutely beautiful- not to mention the security these fences provide. Some of the different types include:
Iron fences
Wrought Iron fences
Steel fences
Chain link fences
Aluminum Fences
Metal fences require no maintenance long term and will last generations.
We have installed metal fences in Dacula, Suwanee, Hamilton Mill and Braselton.
Chain Link Fences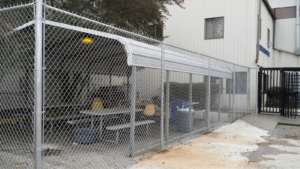 Chain link fences have always been so popular that we'd be remiss if we didn't list them separately. Great for securing back yards, swimming pools, sports fields and more. Chain link fences are versatile and easy to maintain. They're durable and last for a very long time. They are very affordable and are extremely practical.
It seems like we've put up chain link fences all over the state, but largely in Buford, Lawrenceville, Duluth and Cumming.
Vinyl Fences
When it comes to fencing materials, vinyl fences haven't been around as long as some of the others, but this type of fence looks really great. In fact, you can make a vinyl fence look like a wood fence. The up side of that is that you get the look of a wood fence from a distance but it requires less maintenance over time. If you want the look of a wood fence but the durability of a metal fence, this is a smart way to go.
We've installed vinyl fences around Suwanee, Dacula and Hamilton Mill mostly.
Aluminum Fences
Aluminum fences have become extremely popular in the last few years. Like vinyl fences, aluminum fences combine strength and durability with exceptional looks. Great for giving your pool more privacy and great looks, aluminum fences don't require much maintenance over the years either.
We've been installing aluminum fences around Dacula, Suwanee, Braselton & Hoschton.
When you need a fence that will last, call the fence contractors at Marvin Fence. Click here to learn more about the best fence company in Duluth!