Best Commercial Fences in Lawrenceville To Protect Your Business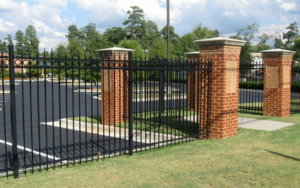 Building your business is hard work. That's why you need to protect what you've built, and nothing protects your business better than a commercial fence. For years, we've been helping business owners all around the north Atlanta area protect their assets with a variety of fences. When it comes to affordable fencing, call Marvin Fences.
Fences are all about security. To best suit your needs, we begin our process with an in-depth consultation. We explore your business and exactly what you'd like to accomplish. Sometimes it's just as simple as, "build me a fence" but sometimes there are added security issues that come apparent during the conversation.
At Marvin Fence, our goal is simple:  we want to give all our customers the exact fence they want. To do that, we have to listen to your needs and offer the best suggestions. Get the best commercial fence installations, call today! 678-300-2118
Types of Commercial Fences for Georgia Offices and Businesses
Chain Link Fences GA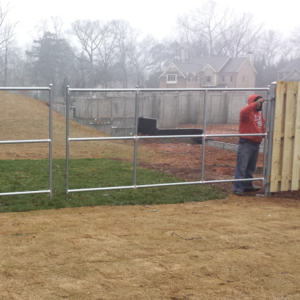 Chain link fences are extremely popular around Atlanta. In fact, you could safely say that chain link fencing is one of the most common fence types that any fence company provides. The main thing to think about with these fences is whether or not you want to prevent visibility through the fence. If you want more privacy, then you need to consider another fence type for that. Chain link fences are affordable and are straightforward to install correctly.
Chain link fences are also commonly used around recreational areas. We can even provide black chain link fences to enhance the attractiveness of the fence. This classic fence type provides containment as well as simplicity.
Wood Fences for Farms and Businesses
Wood fences around your business can look very nice and provide privacy as well. Naturally, we can build the fence to your height standards. We can use a variety of types of woods including pine, cedar and more. Maintenance of a wood fence is relatively easy and we can suggest various treatments for lasting durability.
Vinyl Fence for Privacy and Protection
Vinyl fences can be quite lovely and are simple to maintain. These types of fences are more durable to the elements than wood fences. They are easy to keep clean and like vinyl siding on a house can come in nearly any color imaginable to match the building. Vinyl fences are incredibly durable, strong and attractive.
Best Steel Fences Lawrenceville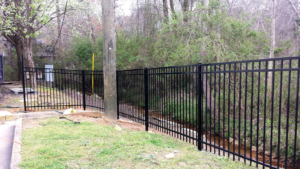 If you're looking for more than just a fence to mark your property, something that's more aesthetically pleasing, then a steel fence or wrought iron fence may be just what you're looking for. Ornamental fences provide durable, lasting protection for your business. Also, it's important to keep in mind that while steel fences don't provide privacy for your business, they also make it hard for trespassers to hide around. We can provide a beautiful steel fence for your property.
When it comes to the best fences in Atlanta, it's time you let the fence contractors at Marvin Fence teach you what excellent customer service looks like. We want to be the fence company you call whenever you need a commercial fence or even a residential fence. Call Marvin Fence for a free fence consultation today. Get the best commercial fence installations, call today! 678-300-2118